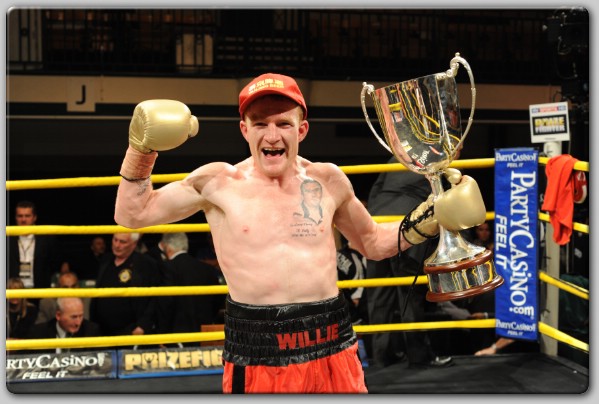 © Frank Coppi
WILLIE Casey was a relative latecomer to professional boxing and seems to have set about making up for lost time. When I spoke to him last December, the then 27-year-old southpaw told me that his immediate goal was to win an Irish title within two years. But with seven wins since then, including a lucrative Prizefighter title, the super bantamweight has his sights set on a European belt.
It was clear to me then that Casey has no intention of becoming a journeyman pro. He said he wanted to get to the top as quickly as possible and since then he has been true to his word taking on a hectic schedule and some dangerous fights.
I met Casey at the community centre in Southill, the deprived area of Limerick City where he grew up and still resides.
Southill isn't pretty. To do a lap of the sprawling O'Malley Park estate is to witness a level of poverty you wouldn't think still existed in Western Europe.
The burnt-out shells of cars and houses along with the massive boulders placed strategically to disrupt joyriders ("rock armour") give the area the eerie texture of a warzone. It ranks pretty much rock bottom in Western Europe in any socio-economic index you care to mention and in such an environment it's hard to overestimate the importance of a rare success story like Casey.
The following is the piece I wrote from the aforementioned interview, a different version of which appeared in the Southill Voice, a one-off newspaper my Journalism class produced for the area. Casey talks about his ambition, the pride in his roots and his position as a role model in his community:
THREE fights, three wins. Professional boxing has been good to Willie "Big Bang" Casey so far. He outclassed Michael O'Gara in his last fight, stopping him in the sixth round, and marches on to Dublin on February 13 where he will take on Ibrar Riyaz at the National Stadium.

Although just three fights into his professional career, the 28-year-old Southill super bantamweight is highly ambitious.
"I'll be pushing on," he says. "What some people would be waiting four years down the line to do, I'm going to try and do in two years if I can.

"First things first, and that's an Irish belt. I've still only had three pro fights so by the time I get a shot at the belt I might only have had seven or eight fights.

"I don't want to be wasting my time. I want to know if I'm good enough. I don't want to be someone who in 20 fights down the line my opponent is no better than the first opponent I boxed, you understand what I mean?"
Casey has lived in Southill all his life and is clearly proud of his roots.
He also enjoys the responsibility of being seen as a role model for youngsters in Southill and reckons he can relate to many of the problems that they face.
The boxer admits to having dabbled with soft drugs in his teens and knows the temptations that are out there.
"I've had a great time living in Southill and all my family grew up here," he says.

"I went to school here and did my Junior Cert. I left in fifth year and I worked since I was 16 years old like. I was part time working in a petrol station washing cars and I went on from there to do a bit of work in a butchers.

"From there then I got a job in a steel factory and I learned a trade there as a welder. I stayed in welding then for about seven or eight years.

"Then things started getting bad with work then, I've been out of work for the last two years so I've been making the best of the boxing.

"I never had any hassle with anyone here. There's a lot of hard-working respectable people up here that want to get on with their lives and I'm pretty sure that they're happy enough here.

"I've been there, I've done it all. I know it's a lot harder drugs than there were back then. I know there's worse drugs and everything but I've been there and we've done it all and I've still come out here.

"I've tried to do my best, tried to make something of myself. Maybe set an example for my younger brothers, my kids and every young lad in Southill and Limerick as well. Hopefully they might look up at me and say 'Well he came out of Southill so why can't I do it?'"
O'Malley Park, Southill © Barry Delaney
But despite the high regard he's held in himself, Casey modestly points to Andy Lee as an example of the impact a fighter can have in sparking interest among the young.
"He's after bringing boxing in Limerick to a new level. All the young kids are looking up to him. He has a great style and class of boxing. All the kids are looking up to him so hopefully in a year or so I might have the same thing going on for me."
According to Casey, the most important factor in his decision to turn pro was somebody else showing some confidence in him and giving him proper access to the information he needed. He believes the situation he found himself before he made the decision mirrors the unfulfilled potential of the youth of Southill today.
Turning professional had never even occurred to him until a coach at a fundraising tournament in Athy convinced him that his style was more suited to the professional game.
Looking at Casey fight, it's easy to see why. He has knock-out power but his all-action style that naturally results in more of his punches missing than landing, was never likely to impress amateur judges who value clean accurate strikes above everything else.
"You'd be amazed at how it happened," says Casey of the encounter in Athy.

"I come from Southill and I never would've thought about going pro. I would've thought no, you have to be an Olympic or world champion before you can make that leap. But you don't.

"Some people need to know that. Just because you don't have 10 caps for Ireland doesn't mean you can't make it at something. All you need is information on it and how to go about it."
And Casey believes that engaging with young people in such a manner and giving them the confidence and information to succeed is the most important thing people can do to help solve some of the social problems in Southill.
"I suppose if you sit them down and talk to them a bit and ask them what they want, you can all come together then and see what you can do to improve the situation.

"You need to push yourself. If you sit around it won't happen. No one wants to spend the rest of their life sitting on a wall drinking cans or skinning up joints! Your mind needs to be focused on something.

"For me it can be hard at times, I've a wife and four kids, trying to work training around them. At times they're trying to work around me! But my wife is great. I know she's fully behind me and it really helps me."
Casey is also grateful for the help he has received from the Southill community and plans to continue working in the area when he hangs up his gloves as a pro.

And while he may worry about not making it as a pro, you could argue that by inspiring kids in his community and leading by example, he already has.
"If I wasn't competing I'd be coaching," he says. "I have some understanding of what the youths are going through so I'd like to work with them.





"I'll have to put something back into the community when I retire. It was given to me so I'll have to give it back."