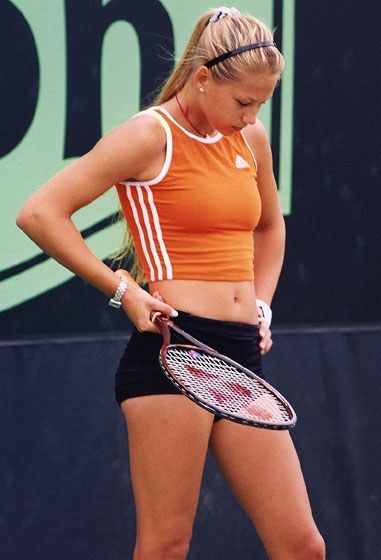 If you want to give your blog a bit of a makeover write something on Anna Kournikova. It won't do your page views any harm and browsing the web for suitable photographs isn't exactly the most strenuous work you'll ever do.
That's the kind of thinking that bothers me though. Kournikova has become known so exclusively for looks that her tennis career has become a sort of sneer-worthy afterthought. It's grossly unfair when you consider what she achieved despite the media circus she had to contend with from a very early age.

Has there ever been a sporting figure whose celebrity has been so disproportionate to their achievements? There undoubtedly has actually, but the cult of Kournikova appears to have come to represent the ultimate victory of style over substance. "With the ascent of Anna, eroticism trumps athleticism" were the bitter words of one NY Times writer back when Kournikova was a top 10 player.
If Kournikova's level of fame is completely disproportionate to her achievements on court then so is the level of vitriol that has been aimed at her (
"Pornikova"
according to some feminists).
There's a general impression that she was completely hopeless as a player. An Ace-King opening hand in poker has been named after her. It looks good but rarely wins. Or as one clueless acquaintance put it: "Playstation games named after her: 2. Matches won: 0."
Amidst all the hype and hate one thing seems to have been forgotten. Namely that Anna Kournikova was a very good tennis player. In November 2000 she was ranked number eight in the world. How many people get to say that they were among the eight best in the world at their chosen profession?
She also reached the Wimbledon semi-finals on her debut at a 16 year old becoming only the 2nd woman in the open era to achieve that feat after Chris Evert. Admittedly the gaping hole in her CV is the lack of a title though she was unlucky to come up against Martina Hingis, twice, and Venus Williams in the three Tier I finals she played in.
If her singles career was good but unspectacular her record in doubles was much more impressive. She partnered Martina Hingis to Australian Open titles in 1999 and 2002 and the pair reached number 1 in the world rankings. She won 16 other ladies doubles titles and finished her career with a credible 200-71 win/loss record.
Australian Open, 1999
Overall she earned over $3.5m in a short, injury-ravaged career that coincided with an incredibly strong era in women's tennis, with much greater depth at the top of the game than exists today. When Kournikova finished 2000 ranked number nine in the world all eight players above her had won grand slam events during their careers. In contrast, just four of the top eight ranked players in 2009 had captured one of the big four prizes.
It doesn't make for bad reading especially when you consider the development of her early career. When you trace the origins of Anna the Icon, it's clear that Kournikova the tennis player never stood a chance.
She left Russia for Florida when she was just ten years old. Before her 11th birthday she had signed with the world's largest management agency, IMG, and had a clothing contract with Ellesse. She was based at Nick Bollettieri's prestigious tennis academy where the grossly unrealistic expectations for her were never kept secret.
"Agassi my ass!"
Bollettieri himself could barely contain himself: "I've seen them all, but this one actually frightens me," he said. "She's not only the youngest real prospect I've ever had, but the best. We've had Andre Agassi. We've had Jim Courier. We've had Monica Seles, but when I see how this girl can play, at age 10, I'm shocked."
No pressure there then. The Women's Tour Association (WTA) was also complicit in creating the monster. Calls from other tennis authorities to raise the legal age for turning pro (from 14 to 16) were ignored. The physical and mental meltdown of Jennifer Capriati, another teen prodigy, had raised alarm bells.
"For the health of the kids, the rules should be changed. Maybe then we wouldn't see so many of these flaming burnouts," said then-USTA Director of Player Development, Ron Woods presciently. It was rumoured that Kournikova was one of the chief reasons the WTA were reluctant to raise the age and despite the warnings she began playing on the pro circuit at 14.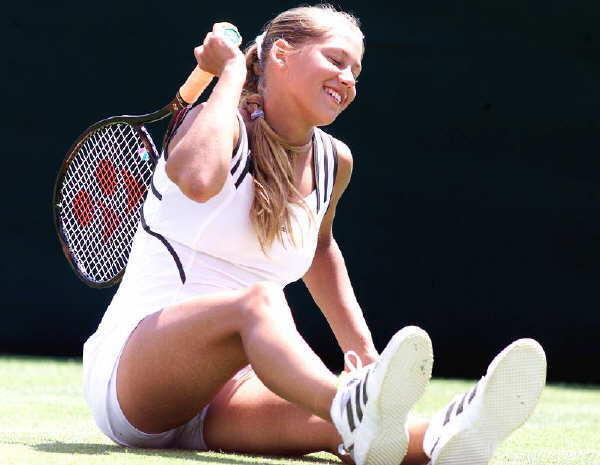 Their irresponsible treatment of the player continued in her early pro career. Along with other teenage talents, Hingis and the Williams sisters, Kournikova was aggressively marketed for her appearance. Appearances in GQ, Vanity Fair and Vogue were engineered not by the players' agents but by the WTA, the body responsible for their well-being and development.
The approach had plenty of critics. "Kiddie porn" in the words of pundit Mary Carillo. The WTA however were unrepentant as their approach reaped rich financial dividends. "'I will admit that this is not the traditional way in which women's tennis has been marketed," said WTA chief executive Bart McGuire in 1999. "We're competing for the public's entertainment dollar, and to get it, we've got to give them an entertaining product. I don't see us crossing any lines.''
A line uncrossed.
Given media frenzy, pressure and off-court distractions, none of which she realistically had any control over, it's hardly surprising that Kournikova never really lived up to her potential as a player.
In fact when you consider the series of physical and emotional wrecks that ladies' tennis has left behind over the years it's quite remarkable that Kournikova has apparently escaped from her career in the sport a well-adjusted, happy young woman.
And despite the revisionist consensus of her as a complete no-hoper, it
was
a successful career.
When Kournikova looks back at her playing days she'd be entitled to feel a great deal of bitterness at the way she was handled. Her parents, her academy coach, her agency and her sport's governing body were all content to milk the marketing cash cow regardless of how much it hindered her progress as a player.
None of this ever seems to be taken into consideration when Kournikova is dismissed as a talentless model who posed for a while as a tennis player. It's time to rewrite the story.