It's not very controversial to say that Donald Young has completely failed to live up to the potential he showed as a junior.
The Atlanta southpaw is currently languishing outside the world's top 100 and it's now over two and a half years since he reached his career high mark of 73. He is only 21 but has stopped making any worthwhile progress.
While it is still too early to write him off, it appears that that Donald Young has simply settled for mediocrity.

Even leaving aside the fact that he is still coached by his parents, his schedule alone paints the picture of a player that is unwilling to test himself beyond the confines of his own comfort zone.
For Young, that comfort zone is the North American challenger circuit.
It isn't lucrative by professional sports standards, but as long as Young can keep his ranking high enough to sneak into the main draws of the slams he can earn a very comfortable living on it - as shown by the $130,000 he picked up in prize money this year.
While American challenger events may help Young earn a decent living as a pro, it's hard to see how they can benefit his game.
First of all, playing almost exclusively on hard courts means that he misses out on the lessons in patience, stamina, mental fortitude and point construction that can only be learned in long, gruelling clay court rallies.
For a player like Young, who lacks a real weapon and relies on his court craft to win points, developing a stubborn resilience is absolutely essential. If he can't out-hit opponents he needs to be able to out-last them.
Secondly, the relatively small number of players regularly reaching the latter stages of American challenger events means that Young rarely gets to test himself against new and unknown quantities.
Consider some of these numbers and it is obvious why Young has stagnated.
At the age of 21 he has already played the veteran Robert Kendrick a quite ridiculous 10 times (head to head stands at 5-5).
That's not a freak example either. Young has faced Bobby Reynolds and Tim Smyczek eight times each (he leads both 6-2) and in 2010 alone he met Marinko Matosevic on four occasions.
Familiar foe: Robert Kendrick
I have the utmost respect for any player who can carve out a living on the challenger tour but a promising youngster simply cannot improve by playing against so many of the same journeymen week in week out.
In 2011 it is likely that Young will meet Kendrick et al another bunch of times and learn absolutely nothing new about himself all over again.
Those head to head numbers would be unthinkable in Europe. Consider the example of David Ferrer and Tommy Robredo who are the same age, the same nationality and who both consider clay their favourite surface. Yet in a a decade on tour together they have met just six times and were both 24 when the first match took place.
In the last two years, Young has played in Europe just twice. And they were two trips to Wimbledon so he didn't exactly experience the kind of dog eat dog grind that he could learn something from.
Respected Australian coach Peter McNamara recognised the importance of hardening a player on the European clay scene when he began working with Bulgarian prospect Grigor Dimitrov after Queen's this year.
Although Dimitrov's game is better suited to faster surfaces, McNamara had him grind it out on the dirt in the lower leagues of Europe for two months and his progress since has been spectacular.
It is an education in tennis that Donald Young has never known.
"Talent can be an asset but it can also be your enemy," was how McNamara summed up the importance of instilling a first class work ethic in Dimitrov.
Hard graft: Grigor Dimitrov and Peter McNamara
The more positive news for American tennis is that Ryan Harrison appears to be on the right road.
The Louisianan has been coached by his father Pat so far in his fledgling pro career but recently announced that he will be working with retiring Czech doubles specialist Martin Damm - a veteran of the European circuit as a singles player as well.
The first thing Damm did was take his young charge away from the American challenger scene over to Europe to play a tournament in Bratislava. American players have always been reluctant to embrace the European scene but that Harrison was willing to go such a long way for such a low key event is a testament to his desire to improve.
He lost in the second round to Martin Klizan, blowing two match points in the process, but he will have learned a lot from the trip and you can expect to see Harrison venture across the Atlantic regularly next year.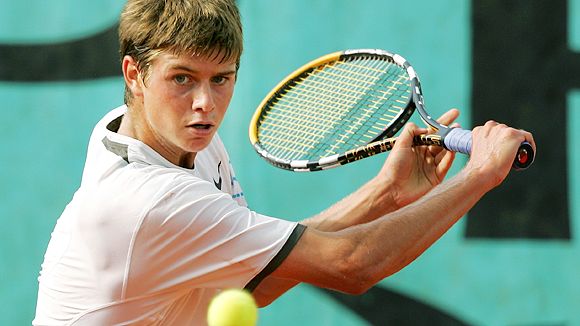 Ryan Harrison
Donald Young should take note. Quite simply, if he wants to become a top pro he needs to get out of his comfort zone and test himself against a different set of players - even if he is to remain coached by his parents.
It's time for him to get to Europe and battle it out in ATP 250 qualifiers and challenger main draws against players he has never tested himself against before. Preferably on clay.
He risks losing money, especially if he plays a lot of qualifying draws, but it's a gamble that he needs to make for the sake of his career.
There's no doubt that Donald Young has the tennis skills to be at least a top 50 player. The only question is whether he wants it badly enough. The evidence so far suggests that he doesn't.